Dalam beberapa peluang implementasi sistem monitoring belakangan ini, kami memfokuskan untuk memberikan solusi terintegrasi untuk manajemen IT , yaitu ManageEngine IT360.
Why You Need to Integrate IT Operations and IT Service Management
In a previous article, I wrote about the need for application-aware network performance management (AA-NPM) tools. With tools that can manage the entire range of infrastructure and applications, we can manage the delivery of services more effectively and responsively — which is better for an organization, better for IT, better for everyone.
But the need for integration does not stop there. When you think about it, we're not just focusing on application and network performance solely for the sake of performance (though the nerd in each of us may think so). In today's business environment, we're focusing on performance because IT has become a service — and ultimately, we are the ones in charge of the delivery of that service.
Given that reality, does it make any sense to treat IT operations management and IT service management as distinct and separate activities?
I submit that it does not, and the organization that finds ways to integrate IT operations management and IT service management will be in a stronger position to deliver the services that clients expect — whether they are internal business units or external subscribers.
Streamlining Service Delivery
Outside of IT, none of your clients appreciate the distinction between IT operations management and IT service management. They only care about whether what you do helps them get their jobs done. That's important because to your clients, IT is a monolithic enterprise, a single service.
If the service they rely on starts to perform poorly and they call you, you can use your AA-NPM tools to identify the source of the problem. But if you then have to turn to a service management system to create and track a trouble ticket, if you have to manage technicians and other resources with yet another system, you lose the connection between the problem and the solution. You lose the ability to manage the entire service delivery ecosystem as one — and that ability is critical to the delivery of the highest quality of services to your clients.
Integrating IT operations management and service management enables you to view and manage these entities as one, aligning you and your operations with your client's needs.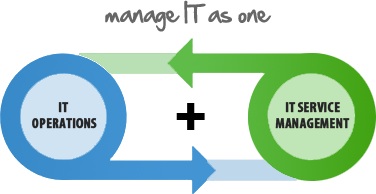 So how can you achieve this kind of integration? There are two basic ways to do this:
- Engage external consultants to integrate different point products and consolidate operational and service management data in a MOM-console.
- Deploy an IT management solution that integrates IT operations and service management out-of-the-box.
Do we need to dwell on why the first approach is least desirable?
The pain starts with the cost of engaging the consultants and grows as you manage the developers to integrate products that were never designed to co-exist in a highly demanding production environment. It grows even more acute as you struggle to manage the patches, upgrades, licenses, and so on that hide behind the "single pane of glass" that you have pieced together.
Deploying a solution that is integrated out-of-the- box — what we call a "Unified IT" solution — is much simpler, easier and faster to deploy, and less costly in both the near and long terms.
Broadly speaking, a Unified IT environment provides the following functionality:
- The ability to create, open, process and close tickets from operations
- The ability to poll all devices — irrespective of their category or classification — and report device status on a dashboard
- Automatic mapping of interdependencies and functional business relations
- The ability to manage the entire asset lifecycle, with full reporting to enable informed renewal decisions
- Support of multi-platform and multi-vendor infrastructure, as well as the flexibility to add hardware, software and other devices from ancillary vendors
The Benefits of Unified IT
For data center and NOC users, an integrated operations and service management solution enables distinct benefits:
- Enhanced data center operational efficiency, which increases the overall IT's accountability to business
- Increased operational efficiency through proactive reporting, which can reduce mean time to repair (MTTR)
- Collaboration between operations and service management teams, ensuring that incidents are owned and managed to resolution according to SLAs
For service desk users, still other benefits arise:
- Deeper understanding of operational incidents and their impact on service delivery
- Increased accuracy when measuring incident times and service level agreements
- Access to a centralized knowledge base, enabling the service desk to become a more integral — and fully-integrated — part of the total fault-to resolution process
For business users, there are still other benefits:
- Real-time visibility into action plans to address issues through improved incident communication
- Enhanced quality of service though seamless integration and end-user experience management
- Detailed trend analysis data on how IT is supporting business over time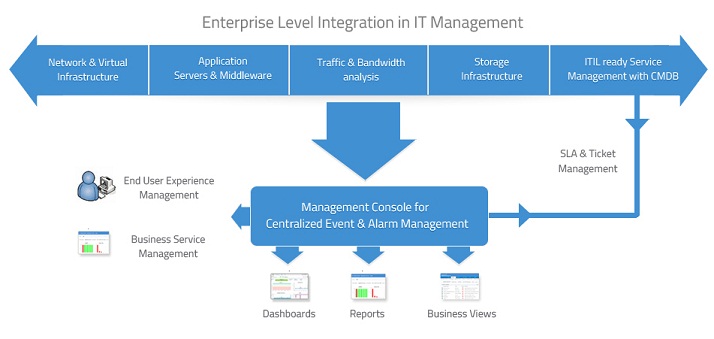 Unified IT for Better End-User Experience
In today's highly competitive and demanding business, a focus on delivering outstanding service to the end user is the focus we need to adopt. End-user demands are changing, too, even as I write this — which argues for an approach to service delivery that enables maximum flexibility and agility. Unified IT provides that. It's a true single pane of glass that provides insight into the entire IT infrastructure and enables all your IT users to engage in an organized and coordinated manner (which is, as we have noted, precisely what the client expects).
As before, though, I'll leave this article off with an acknowledgement that, yes, there's still more an IT organization can do to optimize and improve the user experience. Part 3 of this series will look at the role, place and importance of a configuration management database (CMDB) in this evolving service delivery infrastructure.
Many IT managers view the CMDB as simply another tool on par with every other in the world of IT management. It's not. It is the central hub that links all the assets involved in the delivery of the end-user experience and must be deployed as such for IT to deliver the highest levels of service both to end users and the clients whose applications they support.
The original article was posted in APM Digest: http://bit.ly/13apQp3
More on ManageEngine's Unified story: http://bit.ly/hgK1Yr