Modular Data Center membuka peluang untuk semua..
Portugal Telecom opens modular datacentre to boost cloud offering
Global telecommunications operator Portugal Telecom has opened a modular datacentre in Covilhã, Portugal. The company claims the 75,500m

2

infrastructure facility is the "largest, most efficient and most ecological datacentre in the world".
The €90m (£75m) datacentre (pictured) is made up of four buildings and provides 12,000m

2

of white space capacity. The telecoms provider inaugurated the first of the four buildings on 23 September 2013. The single block features six rooms with 520m

2

of capacity and a power usage effectiveness (PUE) of 1.25.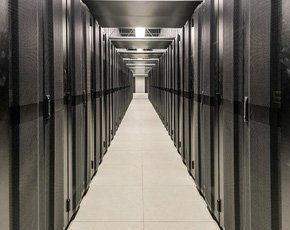 Portugal Telecom chose Covilhã as a strategic location to build its datacentre because of the site's low seismic activity and its chilly winter temperatures that will enable the facility to use outside air for cooling.
Free air cooling and solar power
The technologies used in the datacentre facility allow it to use free cooling for 99% of the time. There are also a large number of solar panels around the facility that will provide clean energy to help it achieve its PUE target.
The new facility's PUE compares with an industry average PUE of 1.88 and the IT energy efficiency will enable greater sustainability and higher competitiveness, according to the company.
PUE, a metric developed by the Green Grid, is used to determine the energy efficiency of a datacentre. It is calculated by dividing the amount of power entering a datacentre by the power used to run the computer infrastructure within it. PUE is, therefore, expressed as a ratio, with overall efficiency improving as the quotient decreases towards 1.0.
High-availability with Tier III certification
Portugal Telecom's Covilhã datacentre will provide an annual availability of 99.98%and has been granted a Tier III certification by the Uptime Institute.
Datacentre tier standards are used to determine availability in a facility. The tiered system, developed by the Uptime Institute, offers companies a way to measure return on investment (ROI) and performance. The standards comprise a four-tiered scale, with Tier IV being the most robust.
Increased capacity for cloud services
With the launch of its eighth datacentre, Portugal Telecom's datacentre network capacity will increase from 14,000m

2

to 26,000m

2

of white space, from 6,000 to 56,000 servers, and from 3PB (petabytes) of storage to 33PB of storage.
The telecoms provider's cloud offerings include cloud storage and file sync services, software as a service (SaaS), collaboration as a service (CaaS), platform as a service (PaaS), and infrastructure as a service (IaaS).
The company said the Covilhã datacentre will allow it to expand its global positioning in the cloud and datacentre services market and help it offer cloud services to newer geographies, describing it as a "landmark investment which fulfills its technological transformation cycle, which began in 2008".
The IT project is expected to create 1,400 direct and indirect jobs.