VMware Offers Disaster Recovery As A Service
VMware disaster recovery service lets customers automatically replicate business systems and data in one of VMware's five vCloud Hybrid Service datacenters.
VMware on Tuesday launched disaster-recovery-as-a-service from its vCloud Hybrid Service's five datacenters. For VMware customers, it will offer an integrated way to implement disaster recovery for business-critical virtualized systems without needing to contract for a physical recovery site or buy VMware's vCenter Site Recovery Manager.
If a company opts to buy
vCloud Hybrid Service-Disaster Recovery
for $835 a month, it can put as many virtual machines as it wishes under its protection, but there is a practical limit: It can supply 10 GHz of CPU (roughly four Ivy Bridge Xeon cores) and 20 GB of RAM, says Mathew Lodge, VP of VMware's vCloud Hybrid Service. The service also includes 1 TB of storage.
VMware already offers disaster recovery as a product line for virtual machines in the datacenter, but customers must implement it themselves, including finding a geographically separate recovery location. VCenter Site Recovery Manager in standard edition may cover up to 75 VMs for a license price of $5,899, including one year of support. The same product with three years of support is priced at $7,578, according to information on VMware's website. The enterprise edition, which can support an unlimited number of VMs, is priced around $11,000, according to a listing for the product by VMware partner SHI.
VMware's price for a one-month subscription to Disaster Recovery includes 30 days of operations during a recovery. The service is supported by VMware cloud centers in Slough, UK (near London); Santa Clara, Calif.; Las Vegas; Dallas; and Sterling, Va. The latter is not far from Amazon Web Services' datacenter complex in Ashburn, Va. Since Disaster Recovery runs on the same infrastructure as other vCloud Hybrid Services, a Disaster Recovery customer can tap into any unused capacity in a given datacenter, if needed.
Lodge says customers can purchase additional CPU, RAM, and storage through the Disaster Recovery service. VMware wanted to offer a basic service that would appeal to customers with multiple virtualized systems that need recovery capabilities. It also wanted to launch at a price point that would interest small and midsized businesses, which typically concentrate on data recoverability, rather than the more expensive recovery and relaunch of full business systems. Lodge says VMware is making disaster recovery affordable to customers that haven't tended to use it before.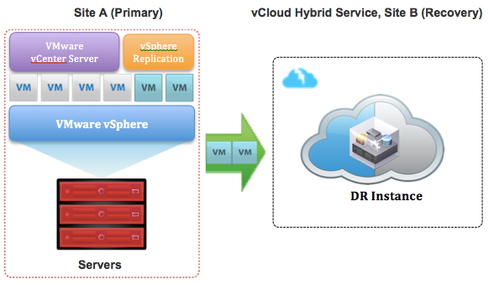 Previously, companies have supplied disaster recovery by setting up matching hardware and software in a second, geographically separate location. But such systems are hard to keep current with frequently changing production systems and are even harder to test. A real-world test requires shutting down production systems and relying on the recovery systems to appear on cue. If they don't, true disaster awaits the ill-prepared IT staff that initiated the test, even if the business eventually recovers otherwise. Most IT managers avoid a real-time test and invoke a partial, staged, and simulated one.
VMware's Disaster Recovery can be tested without disrupting any user activity, and two tests a year are included with the service, Lodge told us.
Virtualization enables a snapshot of a production system to be established in a remote location, without worrying about the precise nature of the hardware. Such systems can typically be called out of storage, activated, and fed a real-time data stream in 15 minutes to one hour, if interfaces and lines of communication have already been set up.
But such systems can't be created at the last minute, as East Coast IT staffs awaiting a hit by Hurricane Sandy discovered in 2012. It's not as simple as vMotioning a set of virtual machines out to another datacenter. As a matter of fact, vMotion, which requires a shared file system beneath the virtual machines being moved around, doesn't enter into the disaster recovery service at all.
Rather, vCenter Site Recovery Manager capabilities have been converted into software-as-a-service and made available from the vCloud datacenters, Lodge said. That means existing VMware customers, if they decide to subscribe to Disaster Recovery, will be able to invoke the service from their vCenter management consoles.
"The majority of clouds are not compatible with the operating system being used by datacenter systems" that businesses need disaster recovery for, Lodge noted, which makes it hard to select a cloud service and set up duplicate operations there.
To set up the service, a customer downloads a replication appliance that's activated on the vCenter console to capture "a complete snapshot" of an existing system. The user tells vCenter the API address where the replication should be sent and sets a "time to recovery," or the maximum period between snapshot updates.
For a small business, one hour might be acceptable due to a lower volume of data, but many businesses will set a 5-, 10-, or 15-minute interval as the maximum time between snapshots. The smaller the interval, the lower the amount of data that can be lost in the event of a system failure. But the shorter the interval, the more frequently the company is using network capacity and data-transmission bandwidth -- for which it is paying fees.
VMware is implementing Disaster Recovery with partners including Ingram Micro, CDW, SHI, Zones, Greenpages, and PC Connection.
Planview
, a long-term VMware customer that supplies project- and resource-management SaaS, is an early user of the Disaster Recovery service. Jerry Sanchez, VP of hosting operations, says Planview needs reliable disaster recovery because its systems are vital to its customers. "When they're down, we hear it. The last thing we want is a disaster," Sanchez said in an interview.
With a duplicate physical environment, which the firm used previously, "there was a lot of manual work" to implement disaster-recovery systems and keep them up to date. With VMware's Disaster Recovery as a service, it's a mostly automated process, he said.
Patrick Tickle, Planview's executive VP of products, told us the ability to easily interface with the vCloud Hybrid Service decided the issue: "You can go to a portal and test your running systems. It's boiled down to point, select, replicate, and test. It's about that seamless connection between our infrastructure and theirs."
In the disaster-recovery service, VMware has found "a killer app for its vCloud Hybrid Service. There are tens of millions of [VMware] VMs out there where that binary compatibility is a major benefit," said Tickle.
Private clouds are moving rapidly from concept to production. But some fears about expertise and integration still linger. Also in the Private Clouds Step Up issue of InformationWeek: The public cloud and the steam engine have more in common than you might think. (Free registration required.)
Charles Babcock is an editor-at-large for InformationWeek, having joined the publication in 2003. He is the former editor-in-chief of Digital News, former software editor of Computerworld and former technology editor of Interactive Week. He is a graduate of Syracuse ... View Full Bio