7 Service Desk Habits of The Avengers!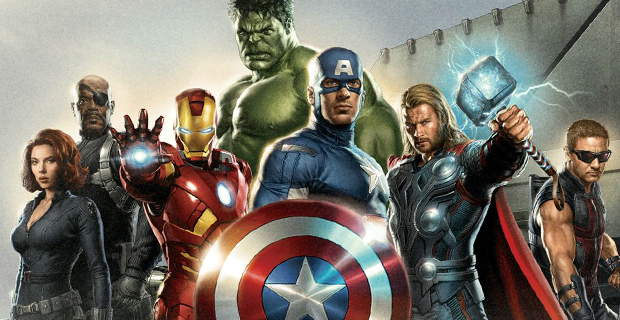 (Image copyrighted either by Walt Disney Studio Motion Pictures or Marvel Studios)
"If you are an IT help desk technician, you're a superhero!"
You may
have heard this many
times from your help desk solution provider, if not from your customers and colleagues. Do you believe
this notion
? Do you really think you can be a superhero? Well, I believe you can. But let's not get overzealous
because with great power comes great responsibility.
Nuking the army of
Chitauri
from outer space may not be your responsibility, but successfully
neutralizing the end-user request ticket
within stipulated time is.
For performing the expected responsibilities, you don't need super powers;
however,
you can learn
some the simple habits of the superheroes.
Plan
A
head
L
ike Nick
Fury
If there is something to take away from the habits of the S.H.I.E.L.D. d
irector, it's planning. Nick Fury is smart and sharp in his methods. He
anticipates
how and when
a
villain can attack, which soldier should go on a fight, and how to prevent future incidents. As a help desk technician, it is important to adapt this habit of planning ahead.
You need to plan the help desk strategy and
workflow
.
Ask yourself the following: What
will be the modes of incoming tickets? How will you assign technicians to a ticket? How will you establish reasonable service level agreements and escalation policies? How will you communicate with end users? What will be the approval criteria and what will be your notifications/ale
rts settings?
All this planning will help you streamline the
workflow
of your help desk and therefore better
equip you
to fight incident attacks.
Know the Environment
Like Hulk
Dr. Bruce Banner is always aware of his environment, well enough to turn himself into t
he Hulk
when he senses
hostility.
The lesson to learn here is, "Know the
environment.
" (Not "Turn into a green rage monster." …Duh!)
You need to know your IT environment and your end users because they are the source of your service tickets. Also, you need to have a
n information database of all the IT hardware and software details, as well as
their relationships with the
end users, business services, and each other
. A
sk yourself this: Do I have
quick access to user details? Have I imported my assets inventory in my help desk application?
Are
there any re
curring outage
s
in IT service that I need to plan for
? Have I created different sites for
different sets of end users who in turn have different configurations
?
Simplify and Automate L
ike
Tony Stark
Tony Stark is tech savvy. He loves to tame technology. This is why he built himself intelligent robotic exoskeletons that work via voice commands
. The result was the creation of the heavily armed and powerful metal suit known as Iron Man.
You need to learn t
his technology-taming habit
from Tony Stark to automate and simplify your help desk
operations
. Automate your opera
tions to
s
implify 1) ticket creation by creating logical templates, 2) ticket assignment through business rules, 3) ticket escalation by
SLAs
, 4) the
triggering
of recurring announcements and tasks, and 5) the creation of alerts and notifications for change of ticket status or even
SLA
violations.
Communicate with E
nd Users
Like
Black Widow
Black Widow may be a master
assassin,
but she is better known for the way she talks to people and gets important information out of
them
. In one
scene from Marvel's The Avengers, Natasha (Black Widow)
interrogates
Loki to find out his plan. She never asks him the direct, obvious question. Instead, during the course of a normal conversation, she tricks him into revealing
his plan of unleashing The Hulk – without Loki even knowing.
That's the habit of effective communication you can learn from her.
You need to understand the details of requests from end users by asking them
the
right questions through effective templates.
You need to acknowledge the tickets, query back to the customers, notify end users
on changes in the status of tickets, and communicate about the resolutions and closures.
Help People Help Themselves
Like Thor
Thor helped the people of Earth prepare for an attack from outer space. Being prepared helped the Avengers
defeat the army of
Chitauri
. Like Thor, you
can help
customers resolve their issues themselves by providing the right self-service portal. Advise
them to use the self-service portal to create tickets, check the status of tickets, check solutions from the knowledge base, and check
FAQs and technical tips.
Monitor Performance Like
Captain America
We know that Captain America is a soldier with a kind heart.
However, he is stricter when it comes to fighting a war and putting up with his team mates.
He loves fun, but gets angry when Tony Stark make jokes in a serious situation.
Captain America has a good habit of
analyzing
situations based on facts. You can use that attitude.
You should monitor and analyze the performance of your help desk technicians at regular intervals using reports on things like key performance indicators,
SLAs
, or even customer satisfaction. T
his will help you optimize the workload, structure service levels, and use resources efficiently.
Aim for Improvement Like
Hawkeye
Hawkeye
is a straight shooter and knows his target
s
well. But
Hawkeye
aim
s
for more than that. Following the origin story of
Hawkeye
, he used to work in a circus where he saw Iron Man and was mesmerized by superhero life. He then worked hard to not only become a superhero, but to join Avengers and save the world.
If you want to develop the habit of aiming at the target of a successful IT help desk, you should start by asking
the right questions of
end users
. You need to regularly check
to see if they are satisfied with your service. This will help you understand the performance of your technicians, the root causes of repeating issues, or any leak in the work flow.
The
above mentioned
qualities of the Avengers might not be what they're best known for, but they are qualities the rest of us can
practice
in real life. Running a help desk becomes much simpler and more efficient if you are
prepared
to work with the resources and application.
Assemble those seven habits from the Avengers and create
your
S.H.I.E.L.D. – Service, Help, Information or Equipment-Lending Desk.