MSPs rejoice! ServiceDesk Plus MSP 9.0 rolls out with enhanced change workflows and advanced analytics.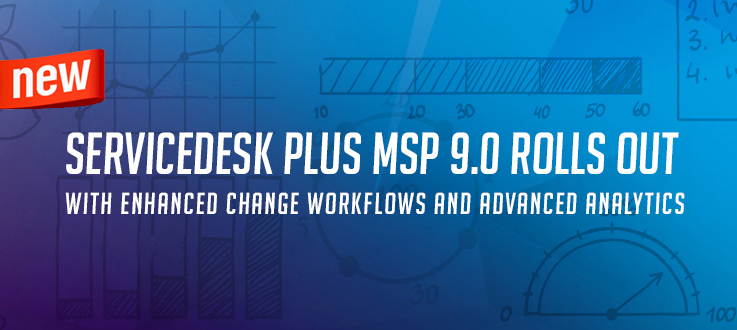 To get 2016 off to a flying start
, we're introducing a change that could be huge for MSPs like you.
After scouring through the feature requests, adding those features you'd love to see, and fixing all
the little quirks that needed to be taken care of, we bring you ServiceDesk Plus MSP 9.0 with enhanced change management workflows and better business intelligence
thanks to Zoho Reports integration.
Because it's all about your customers.
The new features and enhancements to change workflows have been made keeping in mind the resolution most MSPs make in the new year to improve their
customers' experience
.
So, with version 9.0, the only thing you'll have to worry about in 2016 is keeping your personal, New Year's
resolutions.
Change management now includes new features such as custom change roles, additional change fields,, and change stages or statuses.
Set up client-specific change management processes, catering to different business needs.
Define customizable change workflows for different types of IT changes.
Configure change templates and roles specific to a workflow.

Implement a multi-

stage change approval mechanism

.

Receive automated role-based communication at every step of change implementation.

Document the entire change management process for audit purposes

.
A killer integration for advanced analytics.
In a similar vein, we have extended the reports module by integrating with Zoho Reports. With this add-on integration, you can create powerful reports in minutes using a flexible drag-and-drop interface, without having to write database queries.
With this integration
, you can:
Generate client-specific reports on service desk performance and billing.

Create personalized client dashboards for consolidated views of multiple reports;

and embed them across websites, intranets, blogs, and applications for easy client access.

Schedule automatic generation and emailing of key reports to customers.
Access reports at any time from a variety of platforms such desktops and mobiles.
Head
here
for a complete overview of the new features
. We've designed this release exclusively for MSPs like you.
We encourage you to
download ServiceDesk MSP 9.0
and experience the ease
of managing changes and deriving reports.