Masuki Industri 4.0, Kemenperin Dorong Tumbuhnya Pusat Inovasi
Oleh :
Ridwan
| Senin, 18 Maret 2019 - 20:30 WIB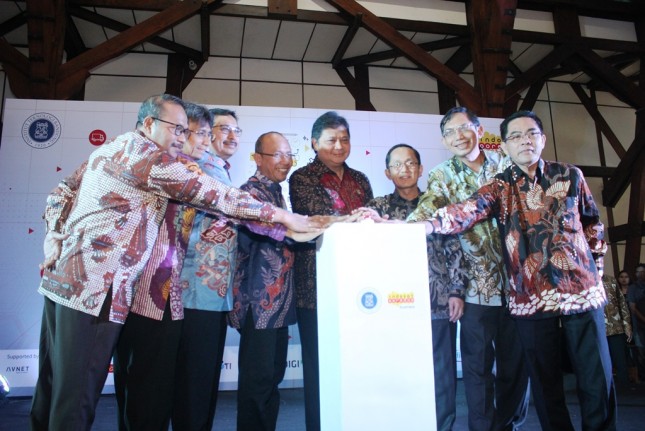 Menteri Perindustrian Airlangga Hartarto saat meresmikan Future Digital Lab di Institut Teknologi Bandung (ITB)
INDUSTRY.co.id
- Bandung, Kementerian Perindustrian terus mendorong inovasi sebagai elemen penting dari Revolusi Industri 4.0. Upaya tersebut merupakan implementasi Peta Jalan Making Indonesia 4.0 sehingga Indonesia siap menapaki industri digital baik dari segi infrastruktur maupun Sumber Daya Manusia (SDM).
"Salah satu prioritas peta jalan Making Indonesia 4.0 adalah peningkatan alokasi anggaran untuk aktivitas research and development (R&D) teknologi dan inovasi. Ini adalah lompatan besar dan kerja keras yang perlu didukung segenap pemangku kepentingan," kata Menteri Perindustrian Airlangga Hartarto saat meresmikan Future Digital Lab di Institut Teknologi Bandung (ITB), Senin (18/3).
Lab pengembangan ekonomi digital IoT Innovation & Future Digital Economy Lab tersebut diprakarsai Indosat Ooredoo Business. Future Digital Economy Lab diharapkan mampu menghasilkan ide inovasi, referensi desain produk dan solusi guna menjawab kasus-kasus IoT yang dapat dikembangkan dalam skala industri untuk beragam kebutuhan baik itu pengembangan produk, layanan, manufaktur, marketing, dan lain-lain.
"Dahulu di era globalisasi yang menjadi kunci adalah bahasa Inggris, sekarang di era digitalisasi kuncinya adalah koding dan statistik data. Kalau menerapkan itu apapun jurusan sekolahnya, maka kita akan siap di era digital," ucapnya.
Ini merupakan Future Digital Economy Lab yang pertama didirikan dalam program yang diprakarsai Indosat Ooredo. Selanjutnya, Indosat Ooredoo juga akan bekerja sama dengan institusi pendidikan lainnya seperti Universitas Bina Nusantara, Universitas Nahdlatul Ulama Surabaya, UNIKA Atma Jaya, Universitas Trilogi, dan STIE PERBANAS.
Selanjutnya, President University, Universitas Prasetiya Mulya, Institut Teknologi Sepuluh November, serta Universitas Udayana. Sinergi ini untuk menyediakan sarana pembelajaran dan pengembangan talenta digital berbasis awareness dengan cara learning by doing.
"Kami harap, dengan Future Digital Lab ini, ITB menjadi powerhouse dalam kebangkitan digital ekonomi Indonesia dan mencapai target masuk 10 besar ekonomi dunia di tahun 2030," ungkapnya.
Menperin mengatakan, setidaknya sudah ada tiga laboratorium IoT yang diresmikan dan dikunjungi dalam satu tahun terakhir. "Ini adalah langkah emas bagi Indonesia untuk menguasai inovasi dan teknologi," ungkapnya.
Airlangga menyampaikan, industri 4.0 sangat erat kaitannya dengan penyediaan infrastruktur teknologi informasi dan komunikasi seperti Internet of Things, Big Data, Cloud Computing, Artificial Intellegence, Mobility, Virtual dan Augmented Reality, sistem sensor dan otomasi, serta Virtual Branding.
"Sehingga, hal tersebut akan jadi tantangan besar bagi Indonesia untuk menyesuaikan diri dengan dinamika Industri 4.0," tuturnya.