Covid-19 has set off a data centre boom in Asean, but can the region sustain the pace of growth in years to come?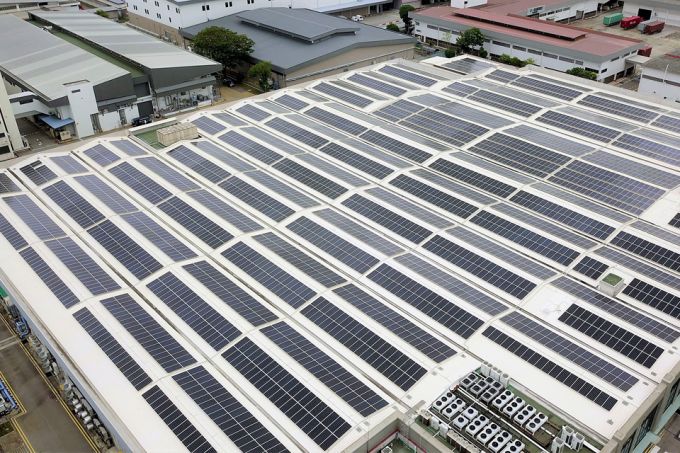 Singapore's approximately 60 data centres currently consume 7% of the country's total energy
- a figure that is set to increase to 12% by 2030.
PHOTO: DITROLIC (S) PTE LTD
MANY
are now familiar with the massive acceleration of digitalisation that defined 2020. As Covid-19 spread across the globe, businesses had to quickly move their activities online while people sought new ways to work, learn and relax as countries moved into lockdown and governments implemented social-distancing measures. This shift to a digital-first behaviour resulted in the growth of applications and connectivity tools that enabled people to continue working, schooling, shopping and staying entertained from home.
In Asia-Pacific, the e-commerce, gaming and video streaming sectors, which were already displaying strong performance before the pandemic, saw continued growth with more people turning to digital services as a result of social distancing measures. At the same time, the pandemic also forced governments and enterprises to transform and adapt their delivery of critical goods and services, bringing forward their adoption of Internet of things (loT), artificial intelligence (Al) and other emerging technologies that rely on the collection and analysis of data, fuelling a surge in demand for high-performance computing infrastructure.
NEXT WAVE OF DATA CENTRE DEMAND
As key enablers of this transformation, the data centre sector has seen a tremendous surge in demand for capacity. South-east Asia is already the fastest-growing data centre region in the world with a compounded annual growth rate (CAGR) of 13 per cent, and the changes catalysed by Covid-19 are only likely to speed things up further. Seven in 10 data centre professionals surveyed by Turner & Townsend now regard the data centre sector as recession-proof in 2021, up from 50 per cent in the previous year. Even more (85 per cent) agreed that data centre construction demand in 2021 will increase.
Like we saw last year, data centres will once again play an increasingly important but largely behind -the-scenes role in helping governments and healthcare providers as countries move into the next phase of pandemic management. The success of national vaccination campaigns and the eventual return to schools and the workplace will require vast amounts of data to be accurately and securely collected, stored and then analysed in real-time. Supported by data centres, technologies such as Al, machine learning, loT and data analytics will come into play as governments continue to predict coronavirus spread, manage testing and distribute and track vaccines.
With this demand showing no signs of tapering off, it will be increasingly important for the region to pay close attention to the growth of data centres. Critical to the realisation of many digital economy ambitions will be the ability to juggle sustainability and environmental priorities effectively while building up a ready pipeline of engineering talent to support this infrastructure growth.
BALANCING THE SUSTAINABILITY IMPERATIVE AMID DIGITALISATION
Sustainability is now high on many national agendas, and many governments have begun taking steps to examine the impact of their digital economy ambitions, while setting broad targets for renewable energy adoption and carbon emissions. Therein lies the added complexity of finessing the delicate balance between enabling digital transformation and advancing national and industry sustainability goals.
Data centres are notorious for their extremely high energy demands. Singapore's approximately 60 data centres currently consume 7 per cent of the country's total energy - a figure that is set to increase to 12 per cent by 2030. Despite only accounting for 0.0005 per cent of the world's land area, the country already contributes 0.11 per cent of the world's emissions. In order to chart a more sustainable path to support the growing demand, a moratorium on new data centres has been in place since 2019, with the government working alongside private sector players to invest in research on new technologies that help reduce energy consumption, emissions and space requirements. Similar moves have been observed in China and the Netherlands as cities and countries find ways to avoid "data centre sprawl" and soaring energy costs.
Amid these challenges, the silver lining is that technology is part of the solution. Advances in technologies such as cloud computing, data centre infrastructure management tools, uninterrupted power system hardware and virtualisation software has enabled data centres to be more energy efficient even as they grow in computing power. In fact, a 2020 study found that the amount of energy consumed by the world's data centres grew only 6 per cent between 2010 and 2018, even as overall computing power grew by 550 per cent in the same period. As more governments collaborate with businesses to drive the development and adoption of such technologies, we will likely see data infrastructure that is not only less costly but is cleaner, more compact, and with a far smaller carbon footprint.
NAVIGATING THE TALENT SHORTAGE
As organisations look to ramp up this technological advantage, they will also need to ensure that their talent pool is equipped with the necessary knowledge and expertise to meet incoming capacity demand while managing other ongoing resource challenges the pandemic has brought on in areas such as construction or component sourcing.
Asia's tech talent crunch has long been a challenge for businesses, and the pandemic has only exacerbated the issue. According to Uptime institute's Global Data Center Staffing Forecast, 50 per cent of data centre
owners and operators are now finding it more difficult to find qualified candidates, up from 38 per cent in 2018. With the global demand for data centre staff set to hit 2.3 million full-time staff by 2025, regional data centre hubs like Singapore will find it increasingly difficult to maintain their pole position should they fail to build a sustainable pipeline of talent.
Today's increasingly complex operating environment demands data centre professionals to be informed about a range of emerging technologies. The list of critical skills which now spans multiple areas, ranging from physical and virtual security to power management, analytics and Al, require an extensive relook at training programmes and job design as a start. Only when such roles are reviewed properly can organisations then map out the skills that their teams need to build internally and make the call on what expertise and functions can be tapped on externally through strategic partners.
Diversity and inclusion initiatives aimed at improving female representation in the data centre sector will also be increasingly important to filling the talent gap. Action needs to be taken to bridge gender disparity on all fronts, from recruitment, mentorship and training, to building an overall workplace culture that champions diversity and shuns discrimination. These actions can go a long way in the journey towards a more inclusive approach and will be critical to attracting and retaining more women to be part of a more adaptable and resilient workforce.
TOWARDS A SUSTAINABLE, DIGITAL FUTURE
The pandemic has left an indelible impact on the way we work and live. Even though data infrastructure owners will continue to face complex issues on many fronts, Covid-19 has presented an opportunity to take
stock and reassess existing approaches. Like any transformational shift, paying equal attention to the people, process and technology aspects has been key to many organisations' success in the past year.
However, change is on the horizon again, and the return to the workplace together with the imminence of widespread 5G adoption is likely to present a new set of challenges. Another potentially larger wave of technological transformation is incoming, and to reap its benefits across all areas of society, governments and businesses will need to remain committed to collaboration to manage the growth of our data infrastructure in a sustainable manner.
SUMBER: https://content.eaton.com/The-pandemic-driven-rise-of-data-centres