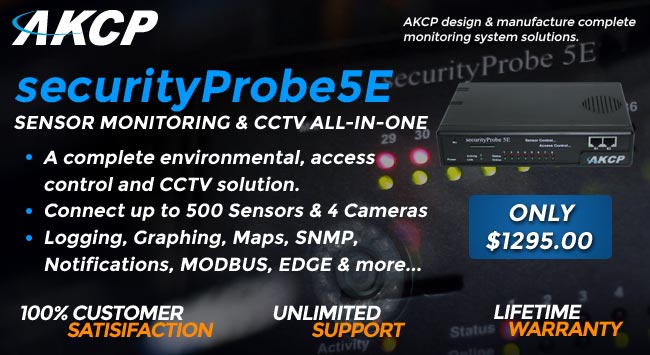 Dear All,
The securityProbe5E is a complete environmental, access control and CCTV system designed for computer rooms. The securityProbe5E lets you monitor a wide range of sensor types including temperature, humidity, liquid, airflow and dry contact sensors. It sends over 15 different types alerts and notifications. You can connect up to 500 sensors and up to 4 cameras. Other features include computer room access control, logging of sensor data, graphs, intelligent maps, picture and sound logs, power monitoring and more...
All for the great price of $1295.00 USD.
At AKCP, we provide all our customers with unlimited support and lifetime warranty on the securityProbe units.
Please feel free to get in touch if you would like to know more about product offerings from AKCP.
Best Regards,