Snapshot of success: Password Manager Pro helps Indian Internet service provider regulate privileged access to its data centers.
Being a triple-play service provider in India is no easy work. The bundled offering of multiple services (Internet, telephone, and television) calls for a sophisticated data center infrastructure that can handle the wide scale of operations, manage all services simultaneously, and deliver a high-speed network experience to the users. Moreover, modern communication networks face a considerable share of privacy and security threats, which can be overcome only by implementing robust controls around the infrastructure resources and their access.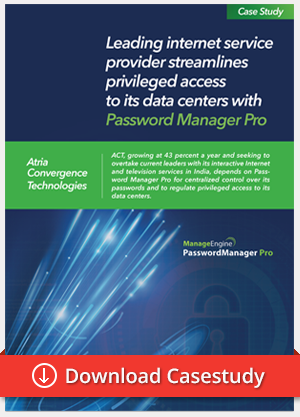 When ACT, India's renowned triple-play service provider, faced a similar business challenge—the need to streamline privileged access to its data center and adopt an effective password management routine
—
they

decided
to let
Password Manager Pro
do the job for them. With ManageEngine's privileged access management solution, the Internet service provider has successfully established a central mechanism to regulate management of privileged passwords and access to data centers.
Read the full story of ACT's security makeover
here
.