Nagios Incident Manager™
is a powerful tool for managing infrastructure incidents and enabling faster problem resolution across an organization's entire IT infrastructure.
Nagios Incident Manager Overview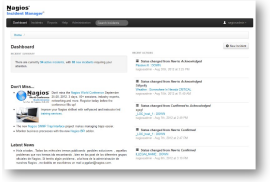 Nagios Incident Manager is an enterprise-class incident management application that allows teams and individuals to track and solve problems faster using a powerful web-based application that offers security, mobility, third-party integration, and tools for collaboration.
Nagios Incident Manager provides organizations with many benefits, including:
Ease of Use:

Web-based interface lets admins hand out control of incoming tickets to different users and teams. Teams and individuals can easily manager their own tickets based on priority and status.


Simple Integration:

Integrates easily with other Nagios-based solutions, as well as third party applications through the use of web API's.


Multi-Tenancy:

Manage multiple teams of users and keep tickets compartmentalized based on user, team, or incident type.


Track Statistics:

Track incident statistics, mean time to resolution (MTTR), and first response times with incident reporting tools.
Accessible API:

Flexible web-based API allows for 3rd party tools to utilize automation, ticket management, and custom actions for ticket updates.
Trial Download
Want to take Nagios Incident Manager for a spin? Download a free 60-day trial to see how well it works.
Download the trial
.