Get started
Ozeki Android SMPP SMS Gateway makes it possible to connect your Ozeki NG SMS Gateway system to the mobile network. Install it on your Android mobile phone and setup Ozeki NG SMS Gateway to connect to it. Check out our
Quick start guide for installation instructions.
If your company is interested in sending SMS messages from Business applications, this application is highly recommended for you, as it allows you to send and receive unlimited SMS messages. Study
key features
and
technical details
.
Use it in your business
You can send SMS from your
SQL database
or you can use
HTTP, E-mail, etc
to exploit SMS communication in your business application. Benefits:
✔
Setup in less then 5 minutes
✔
No need to purchase a GSM modem
✔
No Internet SMS service is needed
✔
No montly subscription fees
✔
Take advantage of free SMS price plans
This guide provides you detailed information about how to setup your Ozeki Android SMPP SMS Gateway quickly. In order to install an SMPP connection you need an SMPP SMS Gateway application on your Android Mobile Phone and an Ozeki NG SMS Gateway installed on a Windows PC.

Figure 1
- Prerequisites
Step 1. - Install Android SMPP gateway on your smartphone
Download, install and configure the application
Option 1: Visit Google Play website: Download from Google Play

Option 2: Scan the following QR code:

Option 3: Request download link in e-mail:

Start the application by clicking on its icon then "Start" button. You will see the followings on the top left-hand side of the screen: Host address, Port number, User name, Password(Figure 2). You need these parameters later.
Figure 2 - Ozeki Android SMPP SMS Gateway has been installed
and launched succesfully
Step 2. - Install Ozeki NG SMS Gateway on your Windows PC
How to install Ozeki NG SMS Gateway
You can
download Ozeki NG SMS Gateway
directly from Ozeki. After you have dowloaded the software, you need to install it. First,
open Ozeki NG SMS Gateway installation file
, then run the
setup.exe
file (
Figure 3
).
You can
login
to the user interface (the management console) by entering your
user name
and
password
(
Figure 3
). If you need assistance for login, please take a look at
Ozeki NG SMS Gateway Quick Start Guide
. For an overview about how to use it, check out the
User Guide
.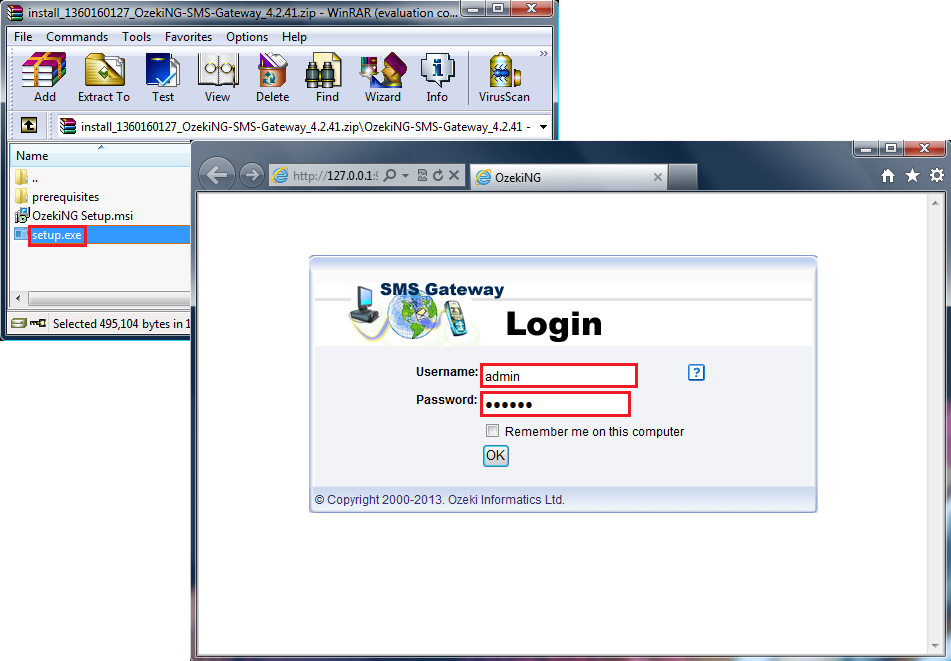 Figure 3
- Logging after installation
Step 3. - Setup Ozeki NG to use your Android phone
Configuration in Ozeki NG SMS Gateway
Now you need to install and configure SMPP (Short Message Peer-to-Peer) connection. Firstly, add new service provider connection by selecting and clicking on "Add new service provider connection" textlink. After this the "Add service provider panel" will appear on the right side of the GUI. Look for "SMPP Connection", then click on "Install" to select the SMPP protocol (Figure 4).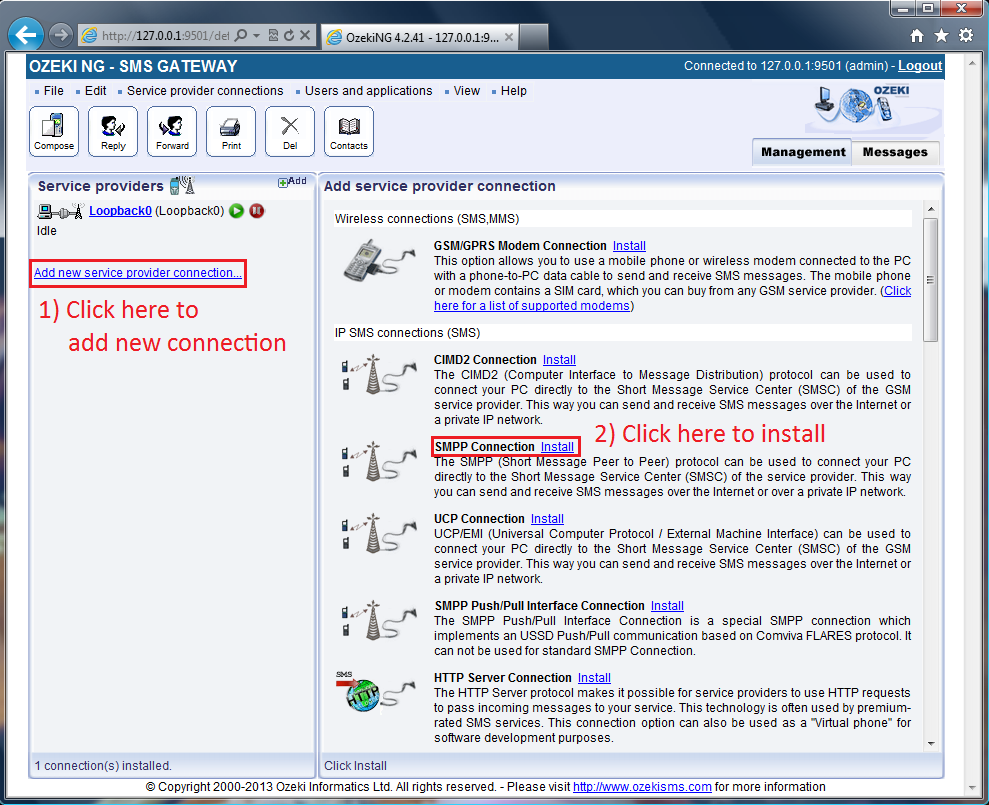 Figure 4
- Adding a new SMPP connection
The main steps in brief:
SMPP settings tab:


You need to enter the following parameters: Host number, Port number, Username,Password. You can find this information in your Ozeki Android SMPP SMS Gateway application (see Figure 2).

Figure 5

- Specifying the SMPP server settings

In this tab you can also specify the telephone number used to this connection and theservice provider name. I you tick the "overridable" checkbox, you can replace the phone number specified in the Telephone number edit box with a different one to be displayed as the sender of an outgoing message. You can replace the number with text (up to 11 characters) as well. As a result, before you send your message, you can enter any different phone number or a name as the sender ID of the message. Click on "OK" button.

Other tabs: Leave the settings on their default values.
In the left side of the screen click on Events. The "Successful login" and "Connection online" messages in the Events panel indicate that the SMPP connection has been installed successfully (Figure 6).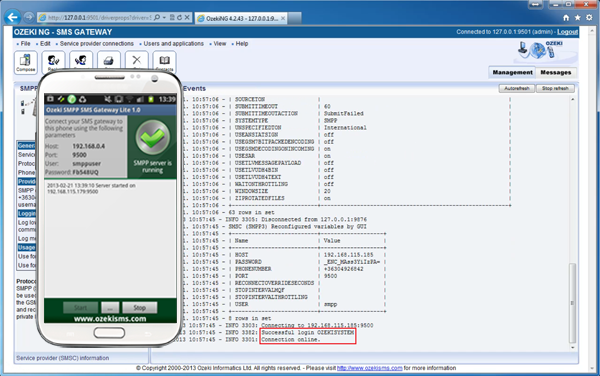 Figure 6
- SMPP connection has been installed successfully
Step 4. - Send your first SMS
In order to compose and send SMS message, click on the "Compose" button in toolbar in the top left-hand of the screen. After clicking it, you can choose Message type or you can check the Addressbook in the left side of the screen and in the right part the Compose a text messagepanel will appear. (Figure 7).
After selecting the appropriate message type (in Figure 7 "Text message"), on the right side of the screen you need to select subtype. Than enter the recipient phone number in international format (starting with "+") in the To (Addressbook) edit box. Finally, compose the message in the Message text edit box.
Next to the Message text box there is a character counter, which shows that your SMS message will be sent as one or more messages.
Under the Message text box check the first checkbox, if your message includes newline characters. If you want to send your SMS later, check the "Schedule for later sending", than define the date and time of sending. When you are finished, click on "OK" button.
Figure 7
- How to send your first SMS message
Conclusion
The Quick Start Guide above presented how to setup Ozeki Android SMPP SMS Gateway for Ozeki NG SMS Gateway easily and quickly. If you follow these steps you will able to install and configure the application and to create connection between the GSM network and the IP network.